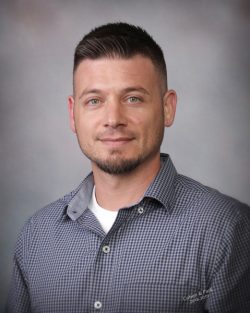 Richard Ceder, Principal
Welcome Toledo Jr/Sr High!
2020 has sure thrown us all some curve-balls and they seem to keep coming.  Nice thing is, out here in Boomer Nation, we keep swinging for the fences and are planning on a great year virtually or otherwise.
Staff have been working hard to create solid lessons for Comprehensive Distance Learning.  Key differences between this year and the end of last year:
High School Block Schedule – 4 classes each semester

This allows for students to focus on 4 rather than 7 classes and provides the opportunity to earn a year of credit in one semester…this also means that students need to be focused as the curriculum will be fast paced to get through all the standards.

Classes with live teacher connection via Zoom or video lessons etc are Monday, Tuesday, Thursday, and Friday. Wednesday's students will be working on lessons and coursework but will not need to log in to live classes. (Asynchronous work day)
Grading is back to letter grades A-F.
Attendance is taken daily and students will need to check in with teachers, be on Zoom sessions, and submit work. Parents will be notified when a student is marked absent.
Welcome our new staff for Toledo Jr/Sr High School!
DeeAnne Barnhart – Same Dee, just now as our Graduation Coach instead of in the Zone
Tia Retherford – Health Assistant and Zone supervisor
Nathan Bush – Same Theater teacher we all love and now also teaching English 9
Mitch Lampson – Advanced High School Math
Elizabeth Soper – Music 7-12 (Band and Choir are back for Toledo Jr/Sr High!!!)
Matt Tradewell – High School Special Education
Jennie Warmack – Middle School Math and Robotics
Kristina Webster – High School Math and Science
Classes start on Monday 9/21/20 at 8:50.  We are excited to have you all back.  Go Boomers!