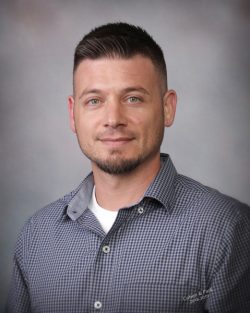 Richard Ceder, Principal
I hope you all had a great summer and are relaxed and re-energized, ready to kick-off an awesome school year!
I am excited to be able to serve as a Boomer, and I look forward to getting to know the students, staff, and community this year. I have high hopes for our students, and moving forward, we are rolling out several initiatives district-wide that will help our students find success at school and after they graduate. These include a major focus on improving attendance ('Strive for 5' – don't miss more than 5 days), continued growth in rigor and AVID to create strong academic performance, and a constant focus on relationship building through Positive Behavior Intervention Supports and Restorative Practices. These supports are intended to foster a learning environment where our students can thrive, building toward the goal of becoming college and career ready. Together, I hope to provide students with the opportunity to make positive connections in the community while they develop fond memories of their school days. Ultimately, we want our students to want to be here- to come to school every day ready to learn and to take pride in the gains they are making, and I want the community to feel proud to be part of Boomer Nation!
As students return to campus, they will be greeted by some new faces this school year.  We have several new staff joining our efforts this year, and we want to make them feel welcome.  Please give a Boomer welcome to the following teachers: Ms. Almasi (Middle School Math, Robotics), Mr. Taylor (PE), Mr. Bush (Drama), Mr. Robinson (Spanish), Ms. Roller (HS Special Education), Ms. Dieker (MS Special Education), Ms. Taylor (MS Social Studies, Leadership), Ms. Venture (MS Science, AVID 9/10).
Please join us at the Boomer BBQ on 9/6/19 at 6: PM. Boosters will be offering free food, we will have an open house from 4-6: PM, Boomers will defeat the Bobcats with a 7: PM Kickoff and our Fall sports will be highlighted during halftime.